Hoooo finally Indonesia reaches its summer even it is still under 35°C it feels hot~~
The daylight seems very normal. I see the sun smiles so bright in the morning that it can melt everything on the ground, for example, this liquifiable creature.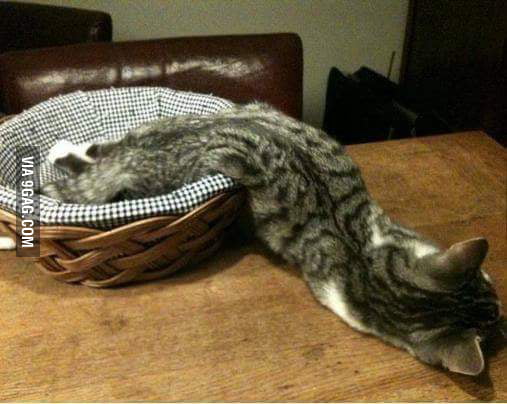 It is so hot that the cat has melted.
Source from 9gag.com
Back to the story, I am still working on weekends except Sundays. The heat in the air makes me too lazy to match any outfit to the office, because first, you will not have a cool look with sweaty tops and sweaty smell around your body (unless you are on vacation like at beach or, or whatever), and second, it takes times longer to the laundry. Ha yeah I wash them by hands. No washing machine allowed.
So I said to myself, "Let's find a quick way-to-go piece to wear!" while digging a messy clothes heap in my closet. Pull one, two, three, until I got a black thing and I remembered this is the t-shirt my bf bought for me. :D
Dress up in 10 minutes and way to go!
What I wear: ADA men t-shirt | thrifted black denim | studded handband in black | fancy watch (buy it from my friend) | silver titanium ring (from bf) | thrifted black flat shoes with bows
Eye Makeup: The Skinfood Rice Concealer #23 | NYX Matte Eyeshadow In The Buff (Upper Lid) | Sariayu Martha Tilaar Moistpome Eyeshadow Bena Nusa Tenggara (Lower Lid, only took the brown shadow)
PS: Pictures taken on July 2014